Tree Care Services in Central Ohio
Humble Roots Tree Care
Whether you live in Fredericktown, Mount Vernon, Ashland, Newark, or any other Central Ohio town, you may find yourself faced with a situation that requires the cutting or removal of a tree. It could be storm damage, wind damage, or the tree has just grown to an uneasy size, but it has to go.
It may sound simple, but it requires proper planning and execution from a professional arborist to pull off such an operation successfully.
That's where Humble Roots Tree Care comes into the equation. Humble Roots, a Fredericktown-based family tree care services business, is dedicated to providing customers with the best possible results, while ensuring that none of the trees are unnecessarily harmed. Trees are a beautiful form of life, and they appreciate all of God's creations.
Whether you need pruning, storm damage restoration, or a tree removal service in central Ohio, look no further than Humble Roots Tree Care for your needs.
If this is the first time you are reading about a professional arborist in the Ohio region, keep your eyes on the prize below!
Here's a breakdown of the services offered, which should put things into context a bit more and illustrate to you why you'd be making an excellent decision with this Knox County, Ohio based arborist.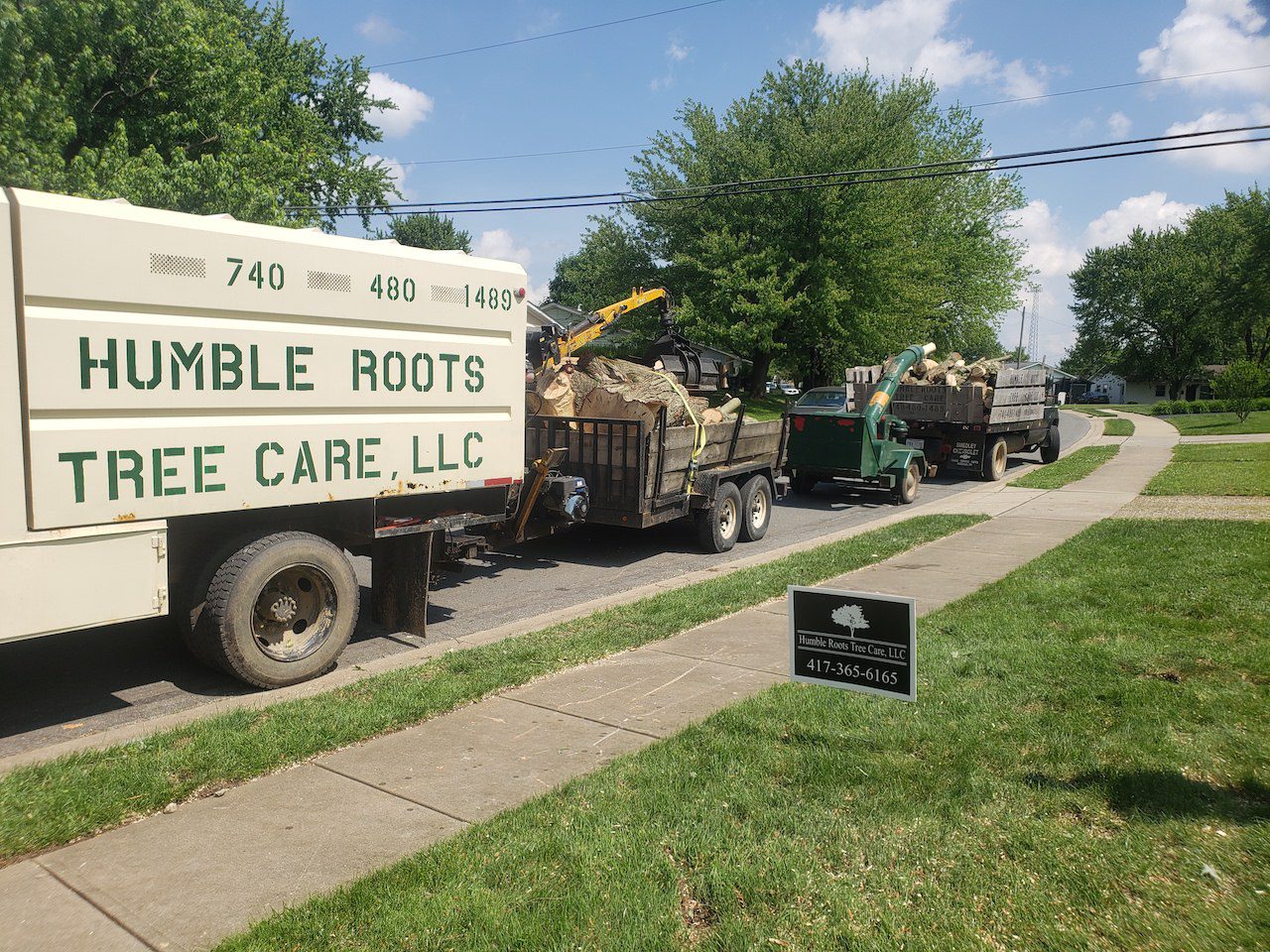 Tree Removal
There's a level of professionalism involved in tree removal, and it requires a deep understanding of tree health and tree biology. People may see the removal process as nothing more than getting rid of an inconvenience. It is so much more than that.
Under no circumstances should a professional tree removal service have this kind of outlook on the matter, though it may be less of a danger for the average person to think as much… After all, how many trees do you really cut down in your lifetime?
Assessment
First, the situation must be adequately assessed to ascertain the requirements and also to attribute any disease present to a root cause.
Sometimes, you find that people in Knox County, Ohio want to get rid of trees because they're under the impression that there is no saving them. If they were to find out that restoration is not out of the picture, you'd be surprised by how many would go for that option. Assessment leads to knowing which trees are salvageable and which may not be. Knowing is half the battle, right?
After all, trees are an essential part of Earth's oxygenation process, and taking care of them properly is just as important as keeping the consumer satisfied.
In keeping with our company and industry standards, the proper equipment is used to allow for efficient tree removal.
This is the kind of thing that Humble Roots Tree Care provides whether it's planned or you require the service as a matter of emergency (See emergency tree removal!).
Just in case you're concerned about tree stumps, they are taken care of too. After all, a stump can become a harbor for pests quicker than you realize, which can contribute to progressive damage to your property and home.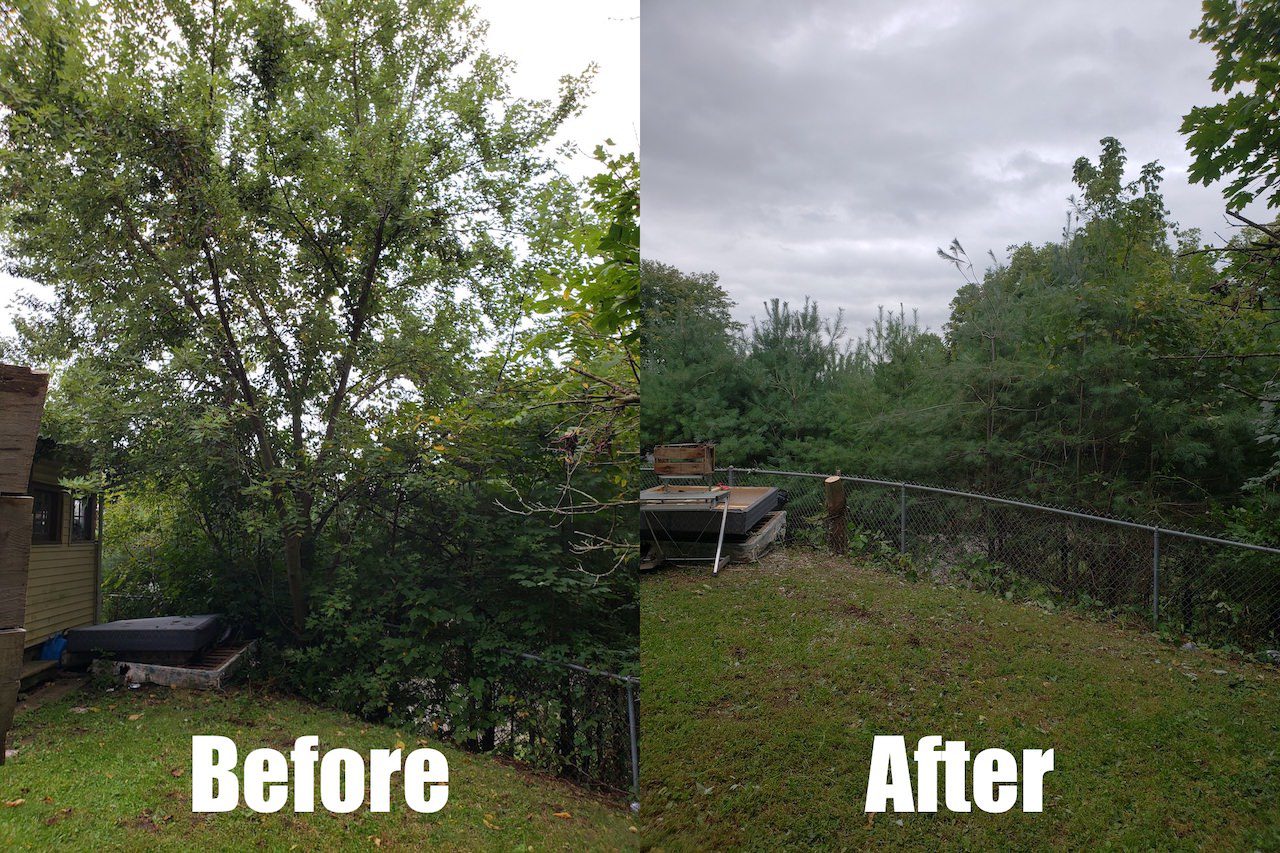 Tree Pruning
Whether you drive through Ashland, Delaware, or some other Central Ohio-based town, it's not unusual for you to see branches that are either in a precarious position or causing a hazard on the roads or on people's property in general.
A full-on tree removal is not always needed, especially when it's just an errant branch that is the issue. Tree trimming and pruning are effective services that constitute a part of regular tree maintenance and tree care.
Tree pruning and trimming is the kind of thing you want to be done by a professional arborist so the areas that pose a problem can be addressed without having to be too concerned about any unwanted consequences or needless tree removal.
The idea behind tree pruning is to keep things looking fresh and to avert a potentially dangerous situation. Humble Roots Tree Care goes no further than is needed to make the tree situation safe and sound.
Shaping Up
Even if you're only requesting the tree pruning process to help shape things up a bit to be easier on the eyes, it's still best to have things carried out by a trained arborist who is familiar with both the process and any implications that may come from going overboard… Remember the bonsai tree? Daniel-son?
Little considerations, such as when the best time is to do pruning may be something that comes up in your assessment conversation… Just because you want 'it done now' doesn't mean it is the best time to prune and trim your trees in Fredericktown, Ohio, and the gorgeous surrounding area.
Protecting your interests as well as that of the trees is a required balancing act when providing these services in central Ohio.
You also don't want to work with a service provider that's going to end up "topping" the tree. Put simply, this is an incorrect tree pruning technique that ends up creating an unwanted and deformed visual.
Apart from the aesthetic concerns. You may find that the tree ends up becoming a wind hazard, sustaining permanent damage, or even dying altogether. Allow Humble Roots Tree Care to take handle all your central Ohio based tree pruning needs.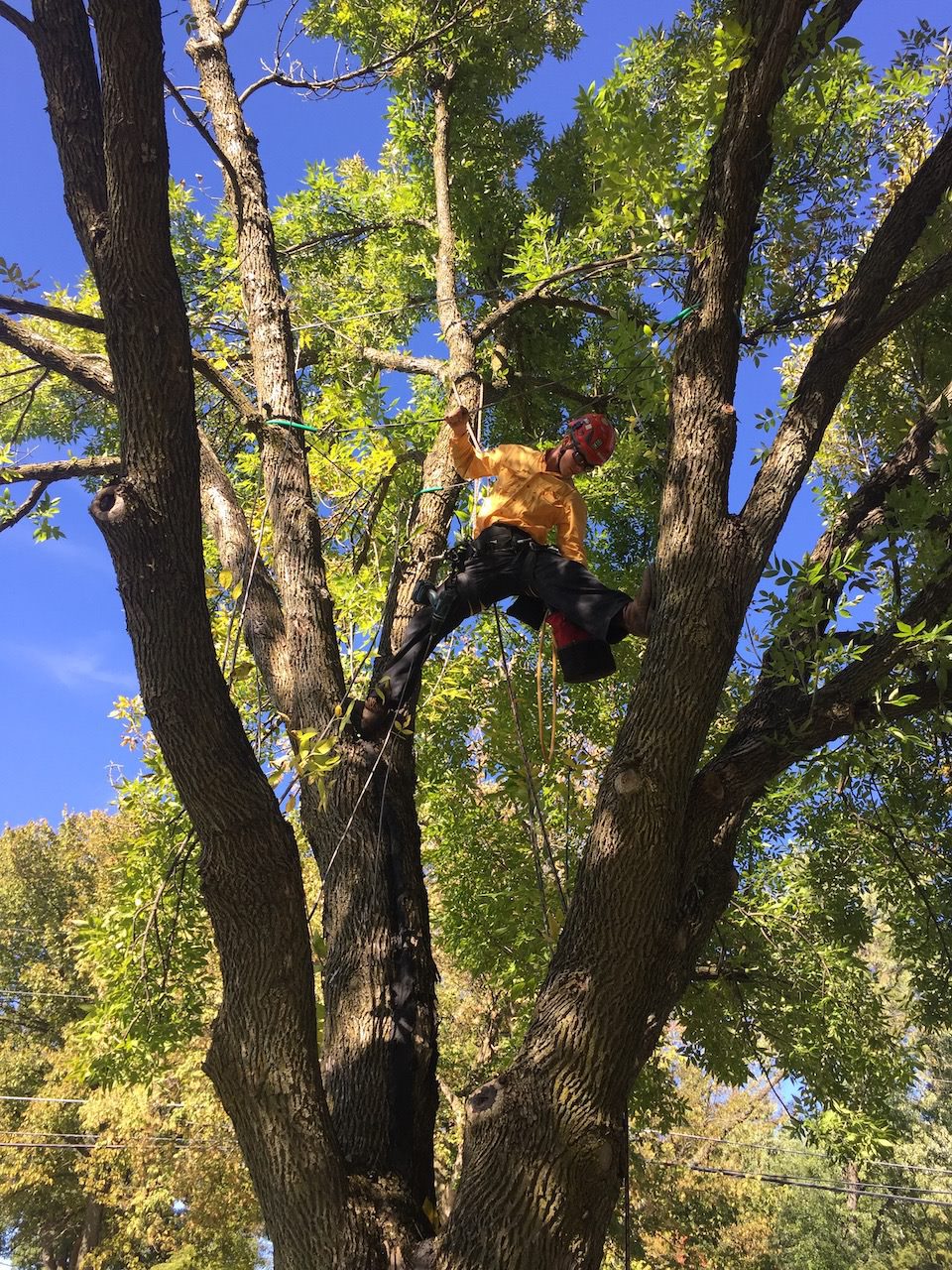 Storm Damage and Clean Up
Sometimes, Knox County residents and business owners have to deal with the after-effects of a bad storm. These are most certainly not limited to effects on trees, but where they do exist, you can have a serious problem on your hands.
Fallen trees and broken trees can be a huge inconvenience and may even be the catalyst for a subsequent disaster of another variety. Some people may try to clean the mess themselves, which they may find doesn't go as well as they would imagine. "Where do I put all of these branches, Granny?"
This is not advised, especially since non-professionals are risking their safety and potentially damaging their property further by going it alone. A storm damage tree cleanup should always be done by a trained professional since there is a better understanding of both the cleanup process and how to navigate the associated dangers.
After all, there may be heavy tree trunks, settled water, hanging power lines, and more to consider.
Humble Roots Tree Care has the internal experience necessary to easily get through your storm damage cleanup requirements, truly representing the calm AFTER the storm.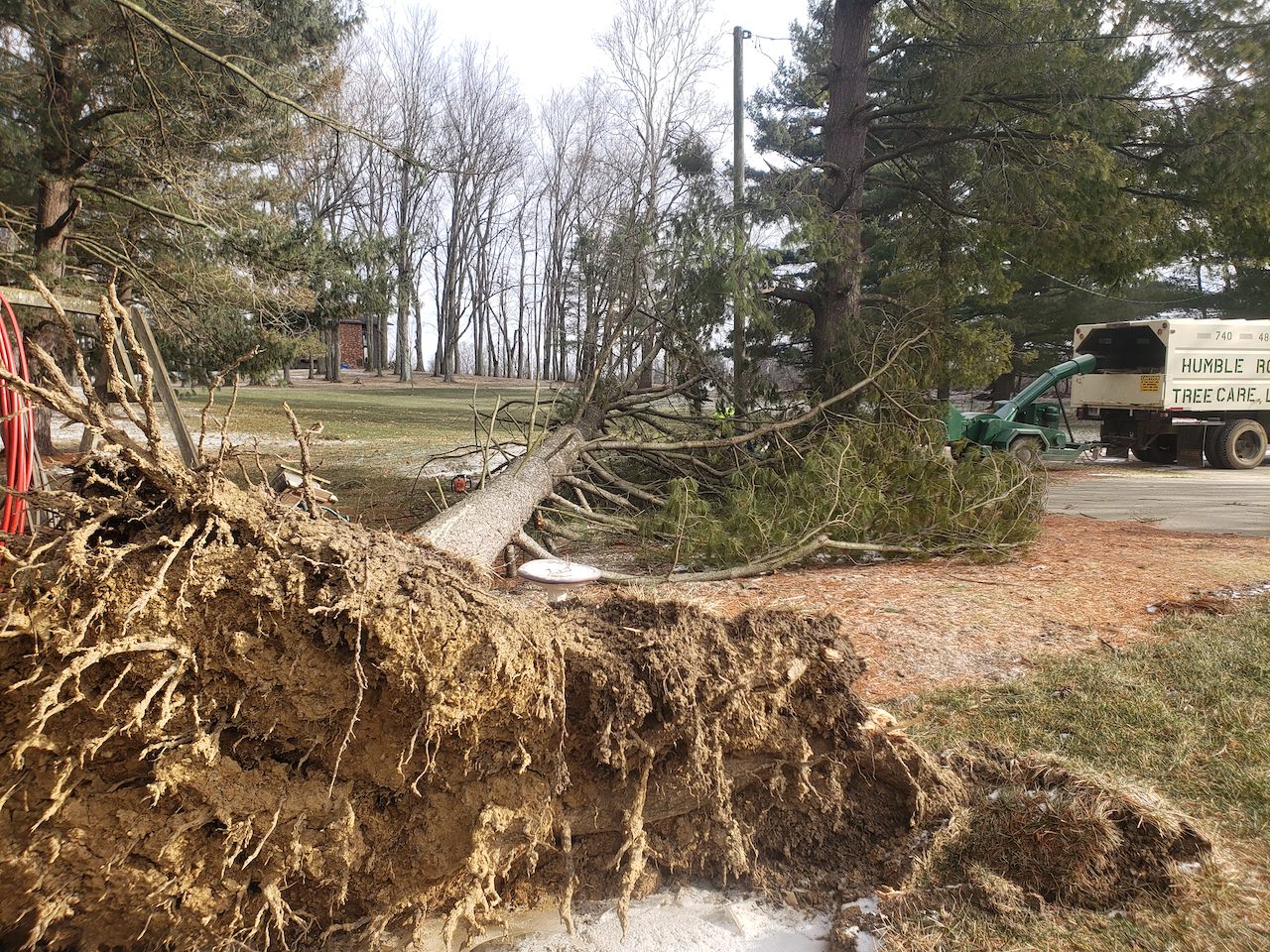 The number-one focus is restoring your property to what it used to be before disaster struck. If you believe in recycling and have use for firewood, you can even be provided with some made from your fallen trees. I mean, there has to be SOME benefit to all of this, right?
Apart from that, once the job is complete, it may be quite difficult to tell that a storm had even taken place before.
Given the nature of storms, the approach is very accommodative. So, this means you should reach out even if you feel like the job you need to be done is too small. Professional equipment is used, and you can even take advantage of 24-hour emergency tree care services when needed.
So, if you happen to be in Mansfield, Ohio, for example, and a huge tree falls over in your yard blocking you from driving to pick up your kids, this is one kind of scenario that would indicate you need to reach out to Humble Roots Tree Care in the shortest possible order.
Final Remarks
Just in case it may not have been communicated before, the services alluded to above apply to both business operators and homeowners in the entire central Ohio region. Yes, the business may be in Fredericktown, but it's no trouble at all to get around to neighboring areas to offer the services required. That is the benefit of a mobile tree removal service.
It's all about family, safety, and the love of trees, both fallen, and living. As professional arborists, there is an inherent need to exercise professionalism, understanding, care, and patience, as the aim is to provide a service that goes beyond expectations.
Get in touch with your central Ohio tree removal service who's interested in making the most intelligent moves based on the situation. Assessment is the investment!
Contact Information
Humble Roots Tree Care, LLC
Fredericktown, Ohio and Nearby Areas
+1 740-480-1489
https://humblerootstreecare.com